SACON Shoot House
MOUT Facility
29 Palms, California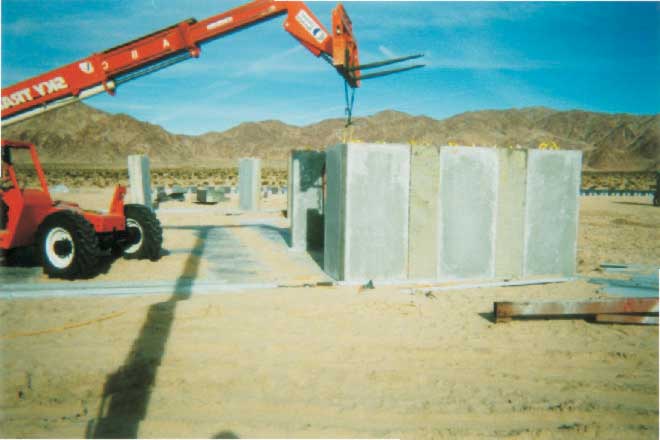 Erection of SACON Shoot House Panels
Protective Wall For Building Opening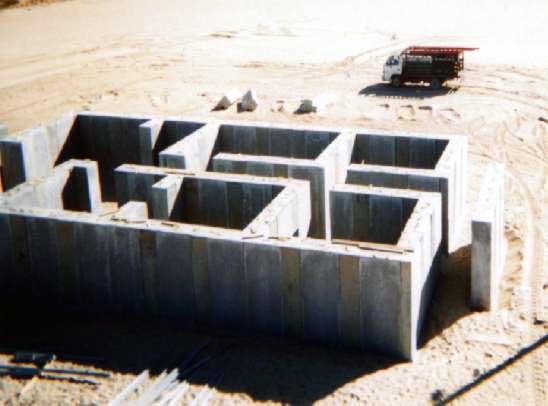 Shoot House Completed
Naval Facilities Engineering Command
Bldg. 1138T-1; P.O. Box 6013
MAGTFTC, 29 Palms, CA   92278
Mr. Kent O. Johnson
(760) 830-7411

Project completed in 2002

Cost of Entire Project: $1,520,000
Work for which Terran was responsible: $99,000
Highlights
Military Installation of CRADA Developed SACON
Custom Designs for Military Purposes
Background
The U.S. Army Corps of Engineers, through its Engineering Research and Development Center (ERDC), has developed several types of shock absorbing concrete (SACON). SACON was developed to reduce environmental impacts associated with small arms ranges including heavy metals accumulation, toxic air emissions, hazardous materials disposal, and soil erosion/cleanup. SACON also provides safety improvements by capturing rounds and reducing ricochets.  SACON has been extensively field tested on a variety of Army ranges.

Through a Co-operative Research and Development Agreement (CRADA) with the ERDC, Terran has advanced the concept of SACON to an economical commercial product through development of design, formulation, fabrication and installation procedures. This has permitted widespread commercialization of the technology.
Scope of Work
Terran assisted Mackone Development, Inc. in design build shoot house of SACON. Terran provided the SACON panels and construction expertise. Terran worked with Superior Concrete Company of 29 Palms to manufacture and deliver the SACON components locally. A local contractor erected the SACON structure with Terran oversight.